RoadTrak transport software manages deliveries and collections at the click of a mouse. RoadTrak is really easy to add new jobs, either in advance or retrospectively. You can even add multiple jobs for the same details in one go which is very handy for tipper and grab work.
It's highly flexible, quick and simple to use and offers all the functionality to help make running a haulage company easier.
One-Click Task Management
Manage bookings and schedule repeat jobs, exchanges and collections at the click of a mouse. With very little typing required.
Wide Range of Integrations
Share transaction details with accounting systems such as Sage, QuickBooks and Xero.
Flexible Invoicing and Ticketing
Ticket printing in any format, including pre-printed, plain paper and dot matrix, along with highly flexible invoice and ticket designs.
Stock Management
Maintainable products and services database included with multiple pricing options.
Driver Scheduling
Drag and drop allocation of jobs to drivers and vehicles.
Add-On Hand-Held System
Speed up the delivery process with digital delivery notes, customer signatures and real-time updates to your head office.
The system is ideal for bulk haulage – for example aggregate deliveries or muck away and recycling operations but can also be adapted to handle multi drop. Using the graphics based scheduler bookings and skips can be managed effectively. Invoicing is a breeze, saving you hours of work on each invoice run and linking to accounts systems like Sage.
All of our products come with FREE technical support for the first 12 months, a quick-start guide and an online manual. On-site installation and training is available on request.
How It Works
Whether you're evaluating our trial version or simply want to see how our software works, the following sample screenshots will show how.
Job Booking Screen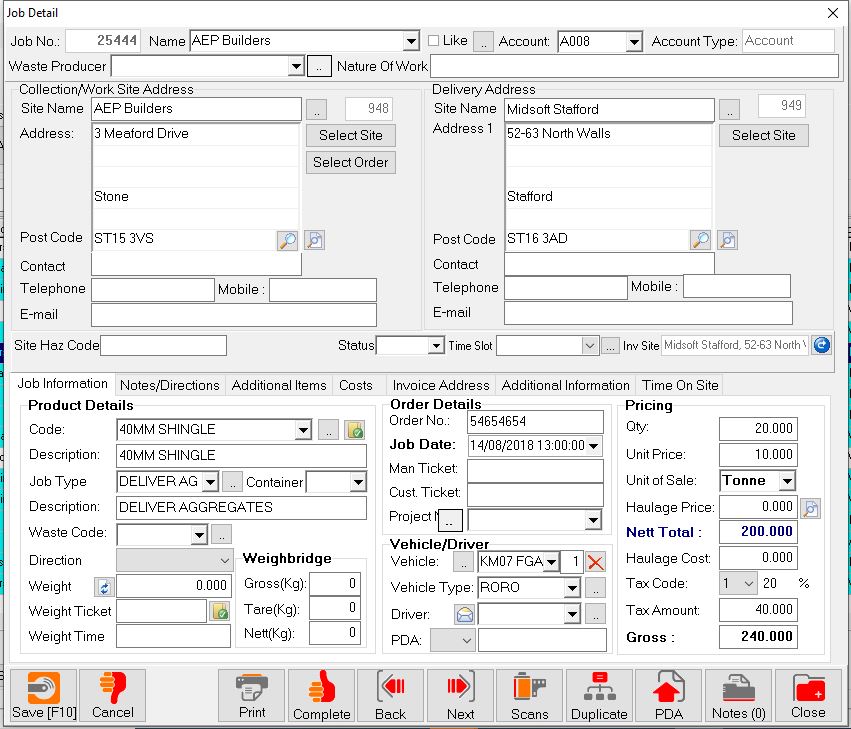 Start by entering a name and RoadTrak will automatically populate the remaining customer details for you.
Enter your product or service, delivery and collection addresses and also payment details where applicable.
Select your driver and vehicle, and add the job to their daily manifest.
Select pricing from standard pricing, customer specific pricing or adhoc pricing.
Add any special instructions.
Print delivery notes in any format or send to drivers phone or tablet.
Job Summary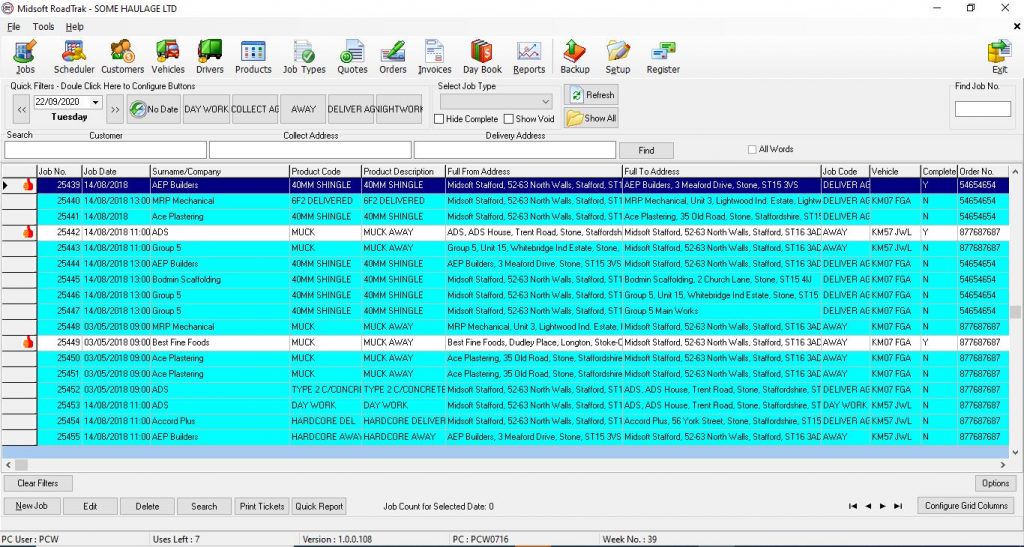 Get a 360° overview of your work from a range of different perspectives – by day, product/service, category or type of job, such as aggregate deliveries or muck away.
Search for an existing movement by job number, name, postcode or part address.
Scheduler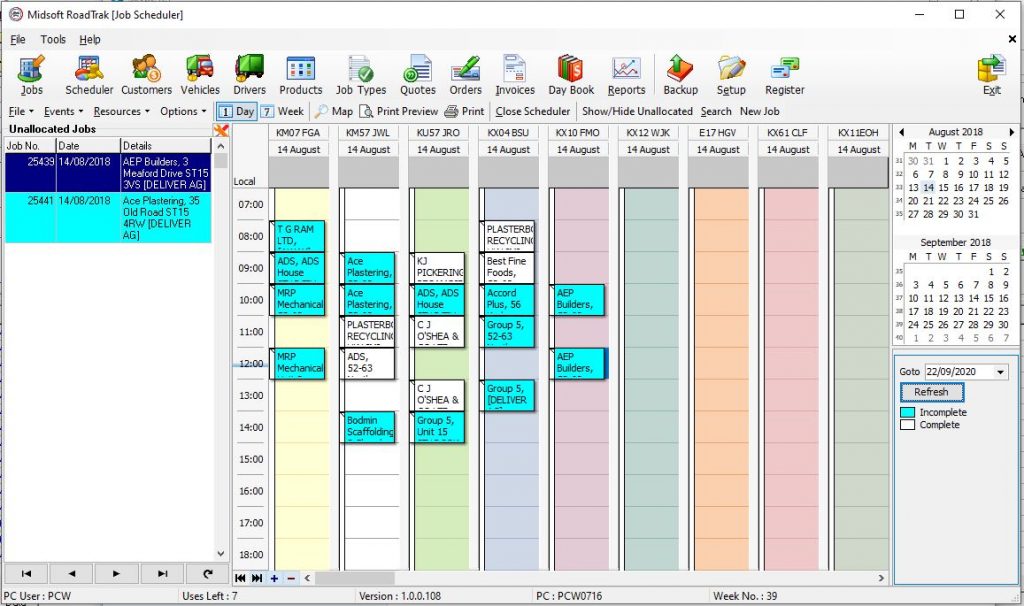 View your daily or weekly schedule of work in an easy-to-understand calendar-style format with a colour-coded job status feature.
Allocate jobs to drivers or vehicles, move tasks to different days or reallocate them to different drivers.
Batch-print driver tickets and run sheets or send tasks directly to a driver's phone or tablet.
Ticket Printing – please note, this is an example of hundreds of available options.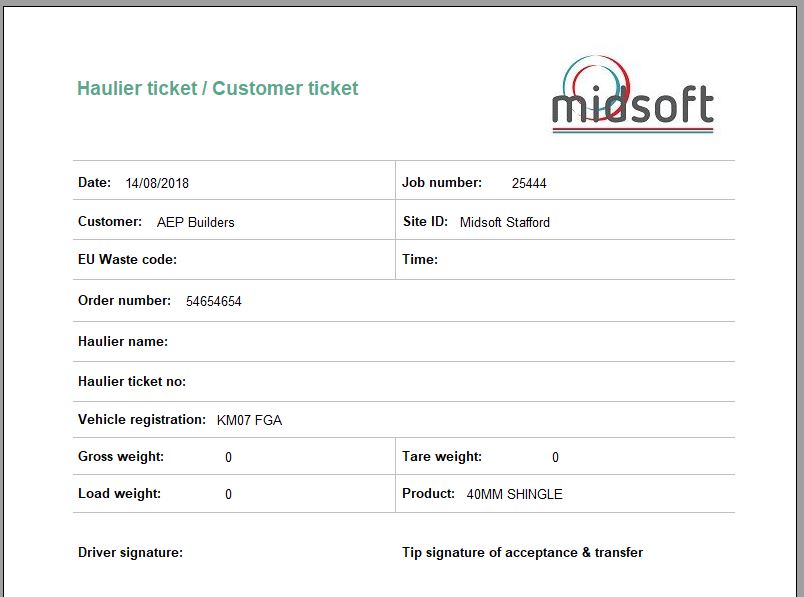 Replace your manual system and print tickets directly from your RoadTrak software.
Print tickets individually or in batches, and export to a customer web portal.
Request bespoke layout changes to fit your stationery.
Midsoft can help you source your ticket stationery and can design an electronic template for you if required.
Invoice Print/email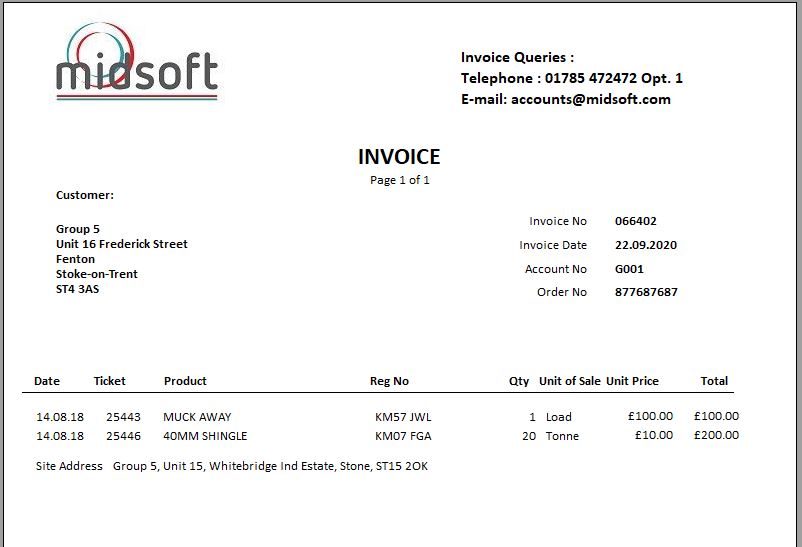 Using our extremely flexible invoicing system you can quickly create invoices individually or in batches.
Print or email invoices individually or in a batch in any format.
Export invoices by direct integration with Sage, Xero and QuickBooks plus a host of other account systems.
Here to Help
If you have an enquiry about any of our products or want to upgrade to a fully licensed version of our software then get in touch today.
Contact Us