Plant and Tool Hire Software
HireTrak rental software does far more than rental contracts it will make the day to day running of your hire business a breeze
It's highly flexible, quick and simple to use and offers all the functionality needed to run a hire business.
One-Click Contract Management
Manage contracts, fleet and off hires on a single contract, all at the click of a mouse. With very little typing required.
Wide Range of Integrations
Share transaction details with accounting systems such as Sage, QuickBooks and Xero.
Flexible Invoicing and Printing
Invoice and contract printing in any format, including pre-printed, plain paper and dot matrix, along with highly flexible invoice and contract designs.
Fleet Management
Maintainable assets and services database included with multiple pricing options.
Comprehensive Reporting System
Fully customisable reporting section including readymade templates.
Add-On Hand-Held System
Speed up the delivery process with digital delivery notes, customer signatures and real-time updates to your head office.
Our hire software can be configured to work with a range of different hire businesses, such as plant hire, tool hire, cabin hire, toilet hire, lifting gear and site access equipment.
HireTrak allows hire contracts to have a mix of hire items and sale items on the same order, for example a customer hires a drill and the sale the drill bits to go with it can all be added to the same invoice.
All of our products come with FREE technical support for the first 12 months, a quick-start guide and an online manual. On-site installation and training is available on request.
How It Works
Whether you're evaluating our trial version or simply want to see how our software works, the following sample screenshots will show how.
Hire Contract Detail Screen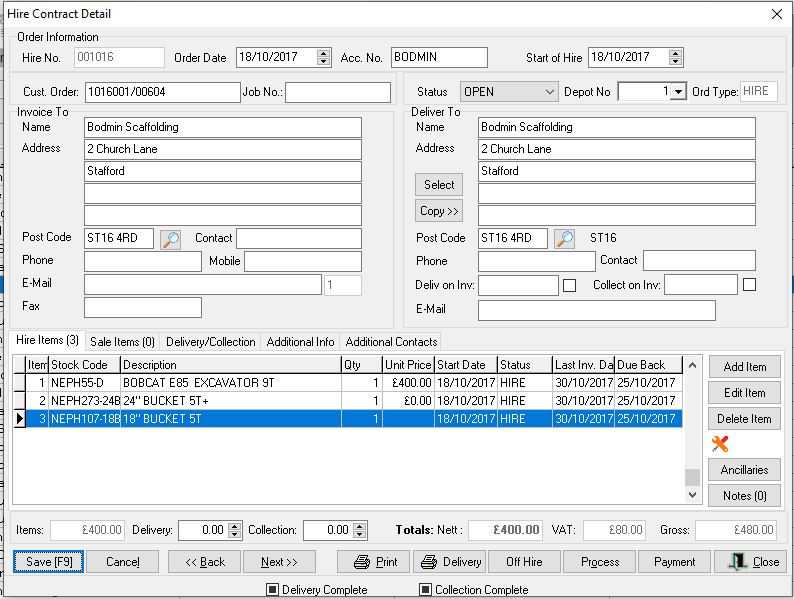 Start by entering a name or account and HireTrak will automatically populate the remaining customer details for you.
Enter your product, any delivery and collection addresses and also payment details where applicable.
Select pricing from standard pricing, customer specific pricing or adhoc pricing.
Add any special instructions.
Print hire contract in any format or send via email.
Hire Contract Summary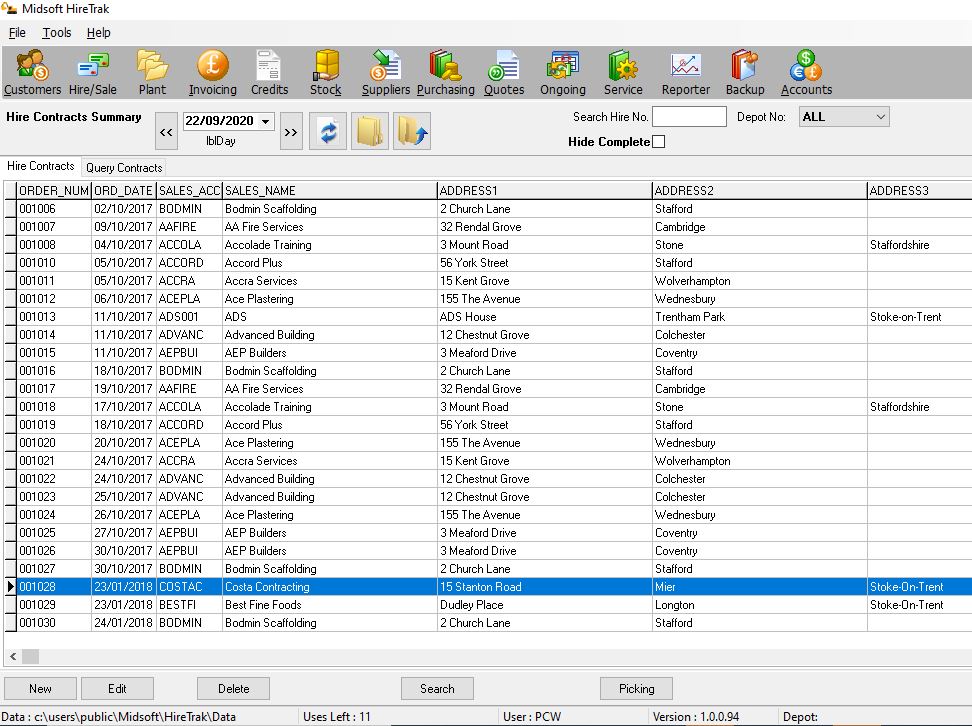 Get a 360° overview of your hire contracts from a range of different perspectives.
Search for an existing contract by account, description or contract number.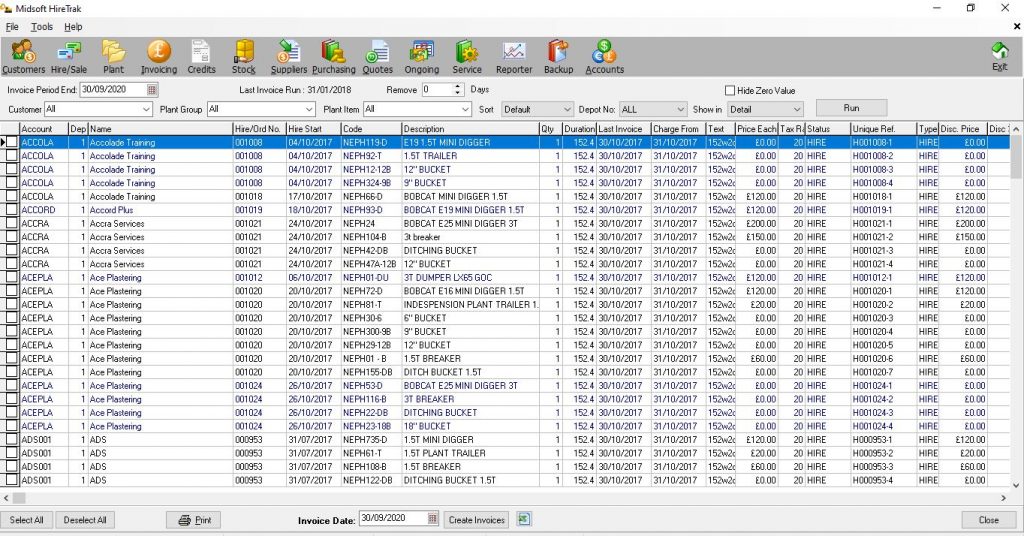 View a complete summary of items currently out on hire.
Generate end of month batch invoices.
Contract Print– please note, this is an example of hundreds of available options.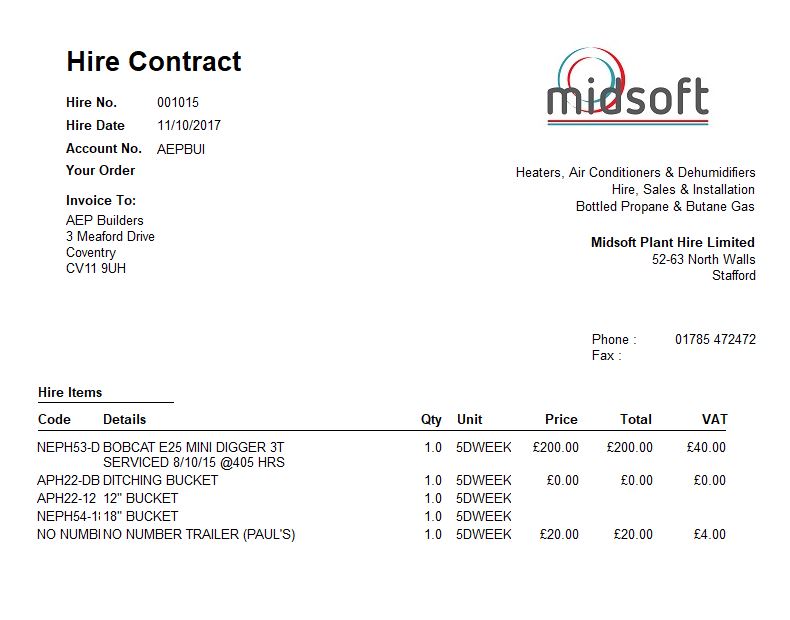 Replace your manual system and print or email contracts directly from your HireTrak software.
Request bespoke layout changes to fit your stationery.
Midsoft can help you source your ticket stationery and can design an electronic template for you if required.
Invoice Detail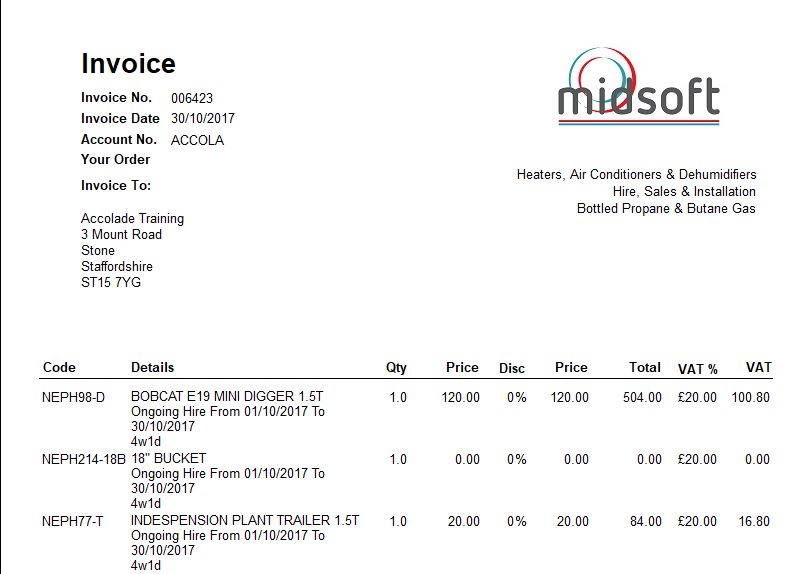 Using our extremely flexible invoicing system you can quickly create invoices individually or in batches.
Print or email invoices individually or in a batch in any format.
Export invoices by direct integration with Sage, Xero and QuickBooks plus a host of other account systems.
Here to Help
If you have an enquiry about any of our products or want to upgrade to a fully licensed version of our software then get in touch today.
Contact Us