Our MidWeigh Weighbridge software does far more than simply log your weighbridge transactions. It will make the day-to-day running of your site a breeze.
It's highly flexible, quick and simple to use and offers all the functionality a yard, waste site, quarry or scrap metal site needs.
One-Click Task Management
Manage movements at the click of a mouse. With very little typing required.
Wide Range of Integrations
Share transaction details with accounting systems such as Sage, QuickBooks and Xero.
Flexible Invoicing and Ticketing
Ticket printing in any format, including pre-printed, plain paper and dot matrix, along with highly flexible invoice and ticket designs.
Stock Management
Maintainable products and services database included with multiple pricing options.
Weighbridge Integration
Integrates seamlessly with all the common weighbridge indicators to read weights directly without any further input.
Video Camera and ANPR Integration
MidWeigh links to many existing camera systems to automatically record images of vehicles entering and leaving site and can also link to ANPR systems.
Our software also includes flexible reporting to allow users to run comprehensive reports such as EA quarterly returns, customer and product transactions.
An optional online portal is available to allow your customers to download reports, tickets and invoices helping reduce the number of calls to your customer service team.
All of our products come with FREE technical support for the first 12 months, a quick-start guide and an online manual. On-site installation and training is available on request.
How It Works
Whether you're evaluating our trial version or simply want to see how our software works, the following sample screenshots will show how.
MidWeigh Ticket Detail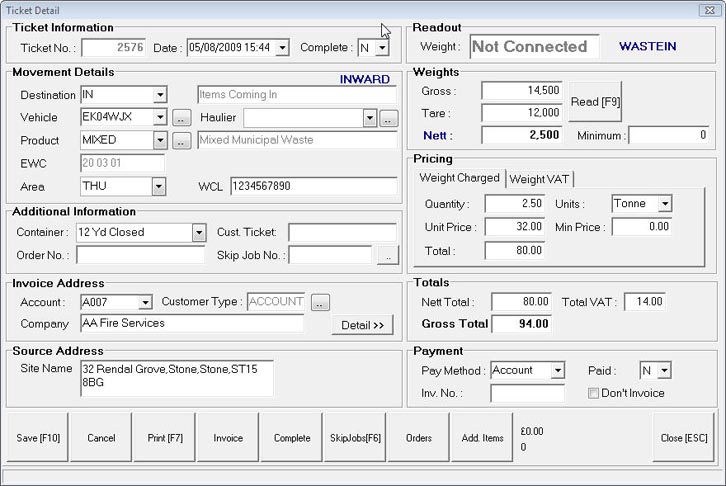 Start by entering vehicle registration and MidWeigh will automatically populate the remaining customer details or allow you to select a customer for a new vehicle.
If MidWeigh is connected directly to your weighbridge the weights will be added automatically, if not they can be input manually.
Select your product and pricing will be automatically populated in addition any EWC code linked to the product will be displayed.
Once a vehicle leaves the weighbridge the ticket information is saved ready for outgoing vehicle tareing.
Tare weights can be stored for regular and owned vehicles which allow one way weighing.
Print the weighbridge ticket in any format required.
Weighbridge Ticket Summary

The system shows all incomplete tickets or vehicles still on site.
To tare a vehicle from here its a simple key press that completes the transaction and optionally produces a weighbridge ticket.
Search for an existing movement by job number, name, postcode or part address.
Day Book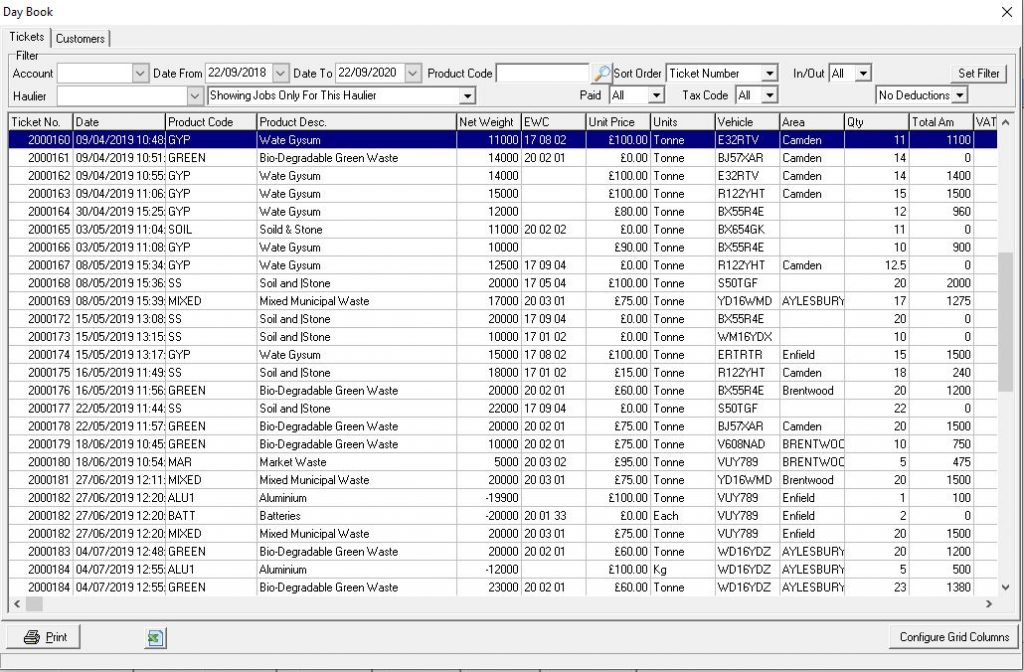 Get a 360° overview of your work from a range of different perspectives – by day, product, customer or haulier.
The Day book can also be used for detailed searches for example a particular product moved between specific dates.
Report results can be printed or exported to excel for further analysis.
Ticket Printing– please note, this is an example of hundreds of available options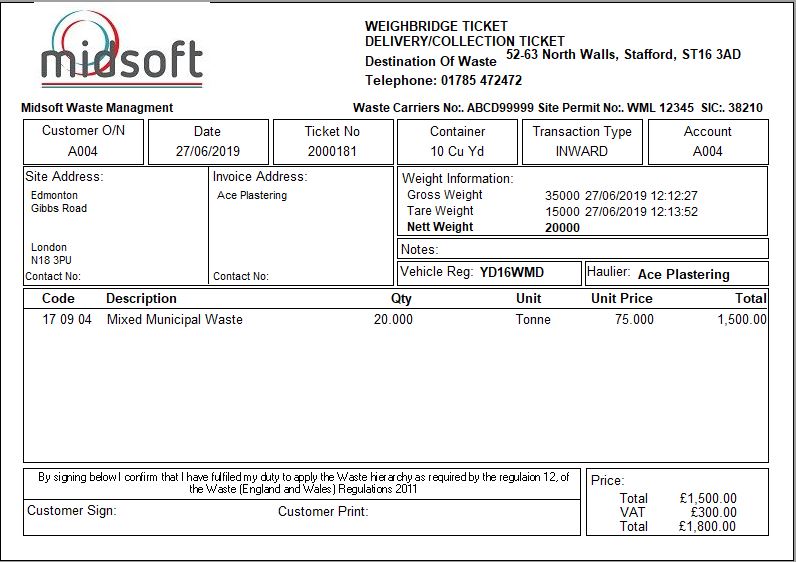 Replace your manual system and print tickets directly from your MidWeigh software.
Print tickets individually or in batches, and export to a customer web portal.
Request bespoke layout changes to fit your stationery.
Midsoft can help you source your ticket stationery and can design an electronic template for you if required.
Invoice Detail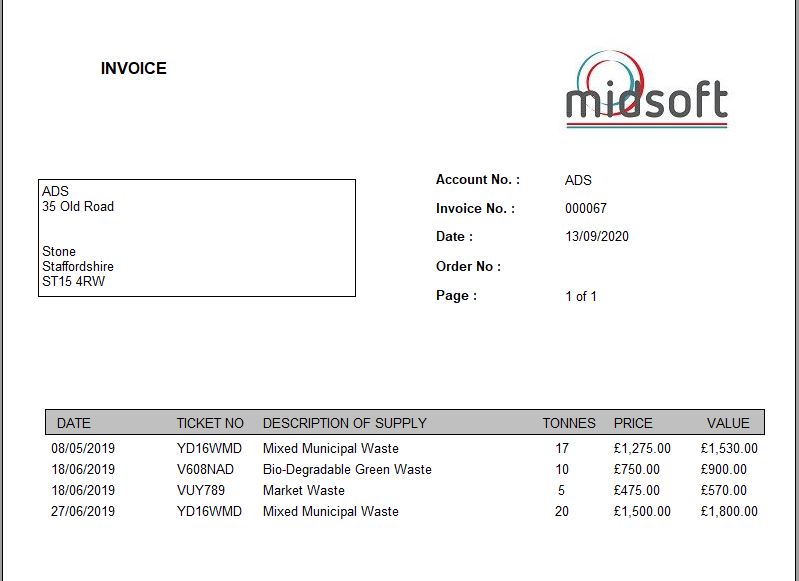 Using our extremely flexible invoicing system you can quickly create invoices individually or in batches.
Print or email invoices individually or in a batch in any format.
Export invoices by direct integration with Sage, Xero and QuickBooks plus a host of other account systems.
SkipTrak customers can have invoices linked to SkipTrak to simplify your accounting system.
Here to Help
If you have an enquiry about any of our products or want to upgrade to a fully licensed version of our software then get in touch today.
Contact Us